IV Produkt Cloud helps you keep track of your air handling units, no matter where you are in the world.
The cloud service simplifies service, support and commissioning, and you can easily connect via your computer, smartphone or tablet. In this article, we show some examples of how IV Produkt Cloud can make your everyday life easier.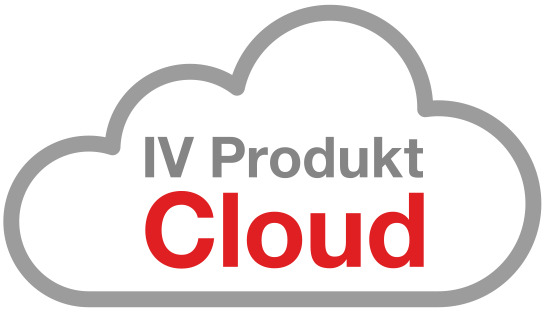 Example 1:
Demand control of air flow with CO2 sensor
During the commissioning of an IV Produkt air handling unit, service technician Peter calls IV Produkt's support department for help installing a CO2 sensor. The customer wants the air flow to increase when the CO2 level exceeds 800 ppm. The unit was not ordered in that configuration, but the service technician has prepared by putting a CO2 sensor in place.
IV Produkt Cloud works in parallel with a BMS system
The air handling unit is connected to a BMS system and to the internet, but not yet to IV Produkt Cloud. The BMS system is the buildings own property automation system, which IV Produkt can not access. IV Produkt Cloud works in parallel with a BMS system, and by also connecting to IV Produkt Cloud, the support department can easily connect to the air handling unit and help the service technician with the CO2 sensor.
The service technician states his order number, and IV Produkt's support department connects to the air handling unit to quickly add the function in the control unit.
Thanks to the connection to IV Produkt Cloud, the function for CO2 control of air flow could easily be activated.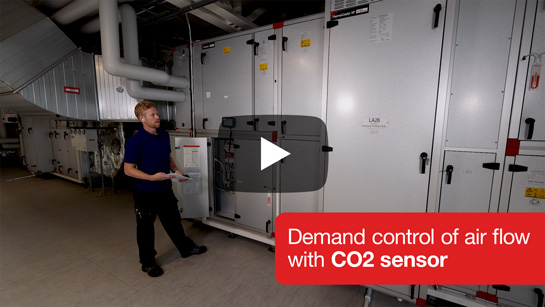 Example 2:
Lowering of office temperature through the air handling unit
In an office building, Anna and her colleague establish that it is to warm. She calls their service company and asks them to come by and lower the temperature.
The service technician Peter is with another customer on the other side of town and does not have time to visit that day. They remember that the air handling unit was connected to IV Produkt Cloud last year.
Peter connects to the air handling unit via his smartphone and makes some adjustments that lower the temperature and improve the indoor climate at the office.
Air handling units can be delivered with the integrated cooling unit EcoCooler or the reversible heat pump ThermoCooler HP for comfort cooling and additional heating.
Easy to keep track of air handling units and plan filter changes
Via IV Produkt Cloud, he can also see that it is time to change filters, and he schedules an appointment with Anna to get that done.
With IV Produkt Cloud, the process of lowering the office temperature was made quick and easy. Also, the service technician could see that the filters needed changing for the air handling unit to maintain its efficiency.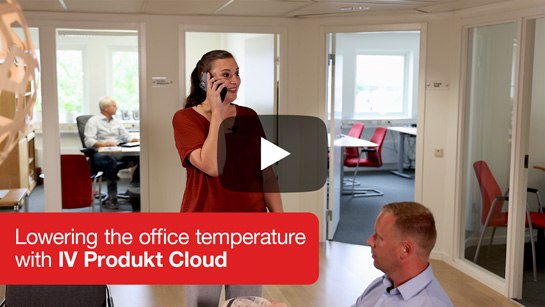 Example 3:
Property owner connects all air handling units
Niklas Granström at LEJE Fastigheter AB in Stockholm says that they use IV Produkt Cloud in all their properties. He continues:
"We use IV Produkt Cloud to monitor and optimise operations, set time schedules and check filter status."
IV Produkt Cloud also saves them a lot of time, says Niklas, as they do not have to go out to properties for all incoming alarms:
"We can also manage most of the alarms from the computer, and that saves us a lot of time as we don't have to visit the properties all the time."
IV Produkt Cloud features and benefits
As you have read in these examples, IV Produkt Cloud provides many benefits, both to installers and end customers. Here are some of them:
Features and benefits for installers
Increased productivity and flexibility
Remote support from IV Produkt
Time and cost savings (avoid visiting the plant room)
Environmentally friendly
Great customer experience
Features and benefits for customers
Quick help and great service
Monitor and adjust values (e.g. temperature efficiency or recovered energy)
Secure and encrypted connection
Smart cloud service – easy to get started
IV Produkt Cloud Free
IV Produkt Cloud is available in a completely free version, IV Produkt Cloud Free, where you can view the unit's flow chart and reset alarms online.
IV Produkt Cloud Service+
When you want full access to change control functions or adjust values online, you need to upgrade to Service+. To help you to get started and commission your air handling unit, the first month of IV Produkt Cloud Service+ is always free and included with the air handling units.
Digital Wallet
If you have serveral air handling units, you can also create a free account called Digital Wallet. There, you can easily manage your units and switch between the two subscription forms Free and Service+ based on the current needs.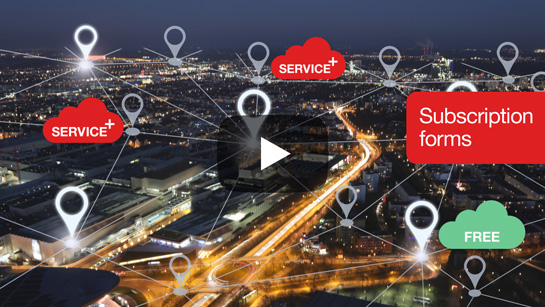 Learn more about IV Produkt Cloud