Innovative unit solutions that save floor space
A top-connected duct connection is best suited in approximately 70 per cent of systems with air flow ranges up to 2.8 m3/s.
Envistar Top saves up to 75 per cent of floor space compared to a traditional installation. This makes Envistar Top the most economic and energy-efficient solution for the available floor space. Envistar Top is designed to be able to pass through narrow passages.
The EcoCooler cooling unit with stepless control of cooling power and cooling recovery is available as an option. As a result, you receive a turnkey solution for ventilation and comfort cooling which does not require any outdoor installations.
Now, the reversible heat pump ThermoCooler HP is also available as an option.
Airflow with rotary heat exchanger 0.10–2.80 m3/s
Airflow with counter-flow heat exchanger 0.13–2.80 m3/s
7 sizes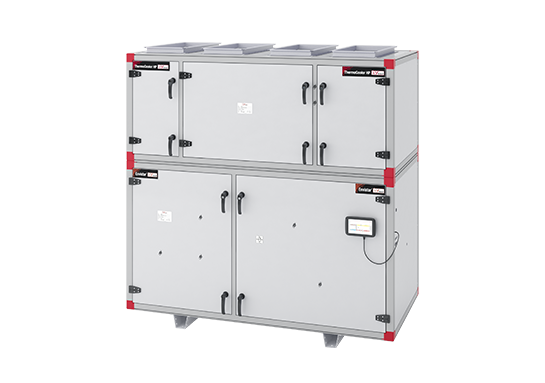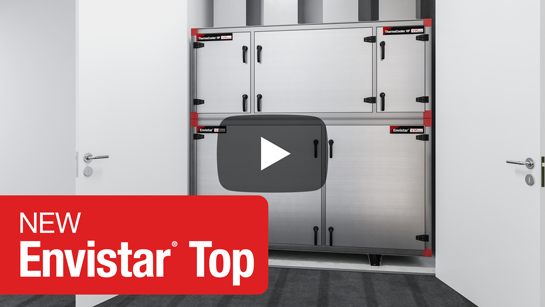 A brand new generation of Envistar Top
Our top-connected air handling units have been a major success since their launch in 2004. We are now launching a brand new generation of the Envistar Top series, which thanks to a number of smart improvements is more flexible and energy efficient than ever before.
In this video, we show what has made Envistar Top such a success and how the series has evolved during its 15 years on the market. We also explore the new generation and how it can simplify installations.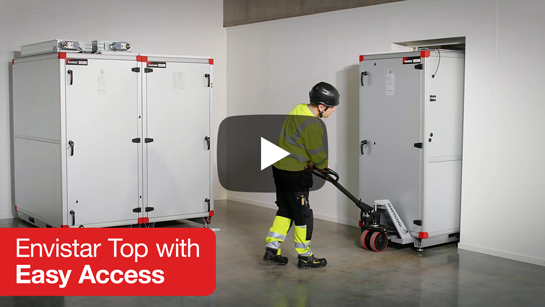 Envistar Top with EcoCooler –
easily transported through a door
In this video, we show you how quickly and easily our top-connected units go into the plant room. This unit comes with the integrated EcoCooler cooling unit.
Air flow: 2.0 m3/s
Unit size (mounted): W 1616 x H 1915 x L 2670 mm
Split in: 3 sections
Door size: 2100 x 900 mm
Free up roofspace with the integrated reversible heat pump ThermoCooler HP
To ensure a comfortable indoor climate, a large end-connected air handling unit in combination with a cooling unit on the roof are often installed. By instead installing an Envistar Top with ThermoCooler HP on each floor, the roof can be used for something much more pleasant than installations.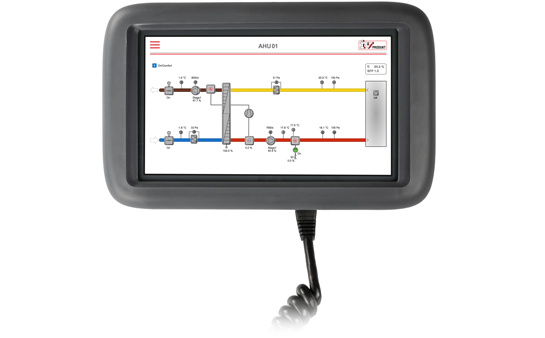 New hand-held terminal,
new possibilities
A new hand-held terminal with touch display is now available as an option for the Envistar range. The terminal is easy to use and provides quick information about your unit on the clear touch display.
If you have several units, you can control and monitor them from the same hand-held terminal by connecting to a local network or the cloud service IV Produkt Cloud.
Top-connection saves floorspace
A top-connected unit saves up to 75 per cent of the floorspace compared to an end-connected unit. Square metres are expensive and thanks to the savings, the property owner can increase the rentable space or choose to build smaller.

Reference cases for Envistar Top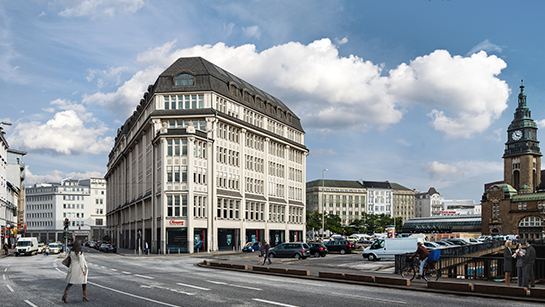 Easy transport into the building and integrated cooling were crucial
The grand Bieberhaus in Hamburg is ventilated by eight Envistar Top units.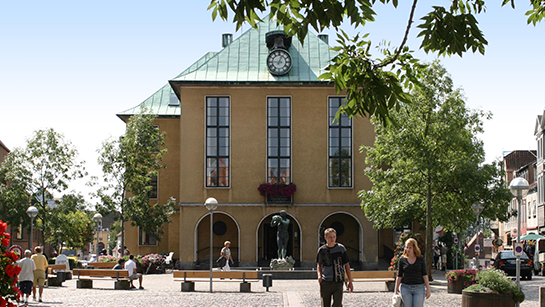 Efficient ventilation and architectural conservation
Thanks to integrated cooling in the air handling units, Sønderborg Town Hall was able to retain its beautiful architecture.