ThermoCooler HP
Integrated reversible heat pump with stepless cooling and heating power
The reversible ThermoCooler HP heat pump can be integrated in our Envistar Top and Envistar Flex units.
All parts of the cooling/heating pump are incorporated in a module section, which is located in the air handling unit. This means that you receive a total solution for heating ventilation air and comfort cooling in one unit. Since everything is integrated in the air handling unit, there is generally no need for frost coils, pump sets or dry coolers.
The installation is complete, CE-marked and always test-run in our test facility before delivery. A unit with integrated heating/cooling pump is more energy efficient than a traditional cooling installation with external cooling unit and heating coil.
Envistar Top with ThermoCooler HP Airflow 0.25–2.8 m3/s,
cooling power 3–49 kW
Envistar Flex with ThermoCooler HP Airflow 0.25–10.4 m3/s,
cooling power 3–175 kW
High EER (up to 6.0) in the cooling mode
High COP (6–15) in the heating mode,
depending on outdoor temperature
Ideal for large variable air flows (VAV)
No defrost cycle required
Low installation and operating costs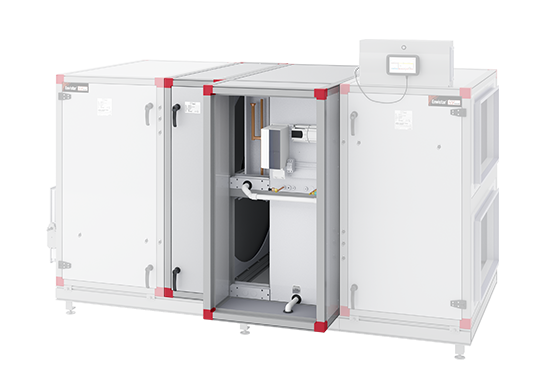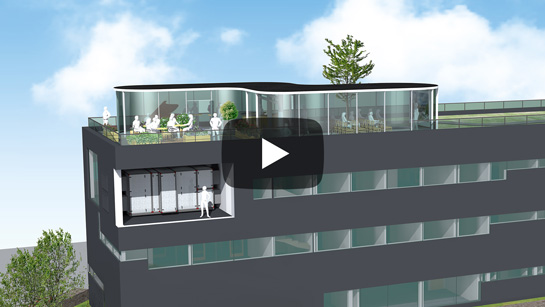 Imagine ...
Imagine if the installation for cooling and heating were integrated in the air handling unit instead of being separate installations. There is no need for external pipe work, valves or lagging. The roof surface can therefore be used for more pleasant purposes than installations. The property becomes more attractive, space is freed up and the value and rental income increase.
Do you need to rethink your project?
News: ThermoCooler HP can now be integrated into Envistar Top. View an example in the video below: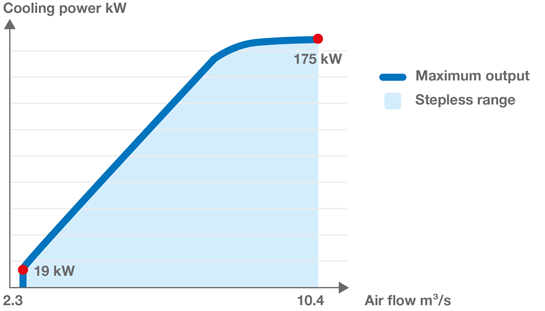 Stepless control
In some buildings, the air flow varies greatly, but there is still a requirement for close control of the supply air temperature. ThermoCooler HP meets the requirements through stepless control of the cooling and heating power via a frequency inverter.
The benefits of stepless control are:
low minimal air flow
optimal variable performance
The example shows Envistar Flex with ThermoCooler HP in size 1280.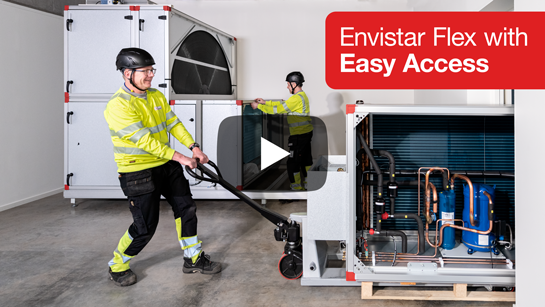 Easy site transportation of Envistar Flex
with ThermoCooler HP
Thanks to the smart solutions of split design for the rotary heat exchanger and the reversible heat pump ThermoCooler HP, this large unit is easily transported through a standard door. To learn more, watch the video and get some helpful tips along the way!
Air flow: 4.5 m3/s
Unit size (mounted): W 2220 x H 2465 x L 3760 mm
Split in: 11 sections
Door size: 2100 x 900 mm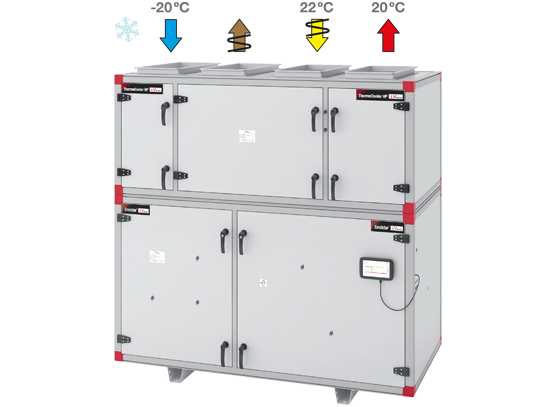 Also sufficient in winter
On a cold winter's day at -20 °C, IV Produkt's unit with ThermoCooler HP can blow in a supply air temperature of 20 °C with a return air temperature of 22 °C without any additional postheating.
If the rotor has an efficiency of 83 %, the ThermoCooler HP heating/cooling pump together with the rotor can achieve a dry temperature efficiency over 90 %, excluding the electricity from the compressor.
Reference cases for ThermoCooler HP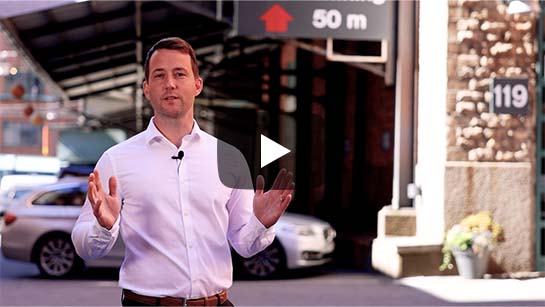 A meeting that made a difference
Energy efficiency and improved indoor climate with combined heating and cooling in an older building. The new air handling unit in Easy Access design was transported in through narrow passages to the plant room.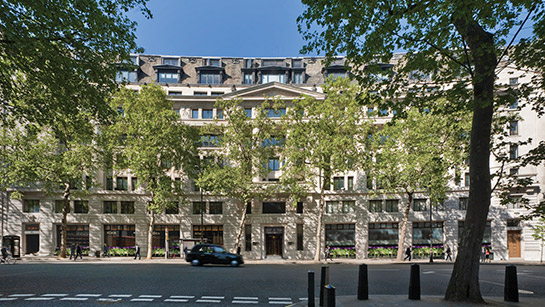 Made space for working and living
Aldwych House in London is an old building which was in need of refurbishment and so was the air handling. With its compact dimensions, Envistar Flex with ThermoCooler HP was the perfect fit for the tight spaces.