An older ventilation unit that appears to be in good condition may be unexpectedly profitable to replace. It is easy to calculate energy savings and payback period when replacing e.g. a unit from the 1990s.
Given that it is over 20 years old, today's units are significantly more efficient. To calculate the energy savings and payback period, an investment calculation is performed in IV Produkt Designer.
Comparison:
Older unit
Air flow: 20,000 m³/h (5.6 m³/s)
Belt driven fans, SFP value: 3.5 kW/m³/s
Heat recovery unit, approx. 40% recovery
Operating time: 3,500 hours/year
In the 1990s, plate heat exchangers and run-around coils were generally used as heat recovery units. On installation, the temperature efficiency was around 50% and after over 20 years of operation it may have fallen to about 40%.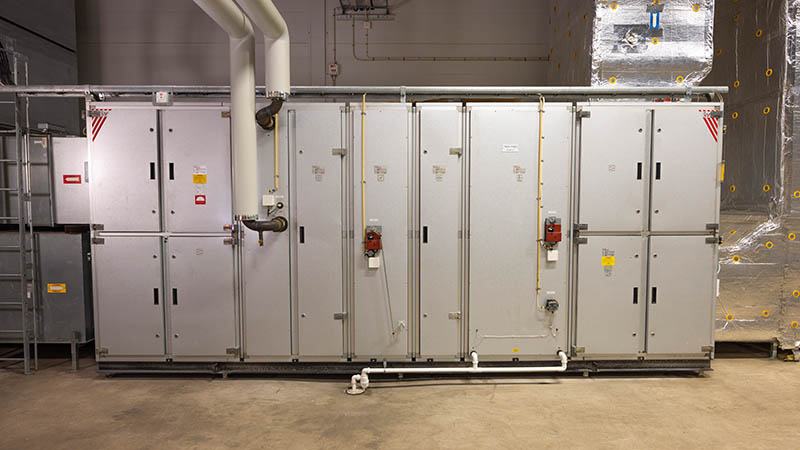 New unit, Envistar Flex
Air flow: 20,000 m³/h (5.6 m³/s)
Rotary heat exchanger
Reversible heat pump ThermoCooler HP
Temperature efficiency: 87.8% (Heat pump + heat exchanger)
SFP value: 1.63 kW/m³/s
Energy price: 0.15€/kWh for electricity, 0.08€/kWh for heating
Installation cost: 115,000€
Reduced maintenance cost over 20 years: 1,500€ x 20 years = 30,000€
Energy savings: 137,000 kWh/year
Payback period: 5.9 years
Increase in property value: 166,000€ (An increased net operating income of approximately 13,300€ and required rate of return of 8%)