Time to connect an air handling unit to IV Produkt Cloud? Use this guide to get started right away.
Was your unit delivered before 2017?
Yes: You may need to upgrade the Climatix software. Start here.
No: Continue below.
 
Step 1: Connect and activate
To get started, you should make sure that the unit is connected to the internet and that IV Produkt Cloud is activated. Go to guide.
 
Step 2: Register your unit
Go to the registration form for IV Produkt Cloud. Enter your email address. You will become the owner of the unit, and you can later add further users by yourself.
If you are already an IV Produkt Cloud user, the unit will be added to your existing account. As a new user, you will receive login details via email.
 
Step 3: Activation Key*
Find the order number for the unit being connected


(found on the unit's model identification label, wiring diagram or Operation and maintenance).

Find the "Activation Key" document in the list of documentation.
Copy and paste the activation key on the registration page.
*Applies to units delivered from October 2021 and onwards. For other units, the activation key is found in the hand-held terminal. To the guide.
 
Step 4: Complete the registration
Click Register to complete the registration. The Service+ subscription is activated for free for one month, and then automatically switches to Free. To extend Service+, contact us using this form.
 
Do you need help?
If you need help, don't hesitate to contact our Control Systems Support:
+46 470–75 89 00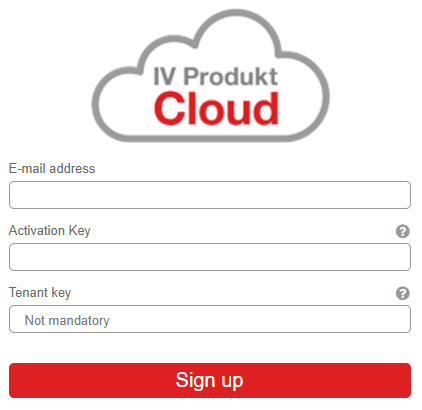 Example of the registration form.
---
FAQ – Frequently asked questions
What is a Tenant key?
The tenant key is not required. If you have a Digital Wallet account, you will receive one from us. Leave the box empty if you don't have an account.
Learn more or contact our sales team for information about the Digital Wallet service!
Does IV Produkt Cloud require an upgrade of the control unit?
Units delivered from 2017 and onwards: Fully supported.
2009–2016: Software upgrade and certain hardware upgrade required.
Earlier than 2009: Exchange of control unit required.
Contact us for more information.
 
How do I connect my unit to IV Produkt Cloud?
Watch a video on how to connect your unit.
What happens when I have connected the unit and registered my account?
When you connect a new unit and register it for IV Produkt Cloud, Service+ is included for free during the first month. After that, it will automatically switch to an IV Produkt Cloud Free subscription.